'Tribute to Charley Harper' 84" x 84" 2009
Inspired by the graphic prints of illustrator Charley Harper. I wished to recreate a few of his bird prints using fabrics. Many of the fine details were added using free-motion machine stitching and colored thread. The fabrics I dyed using pigment dyes.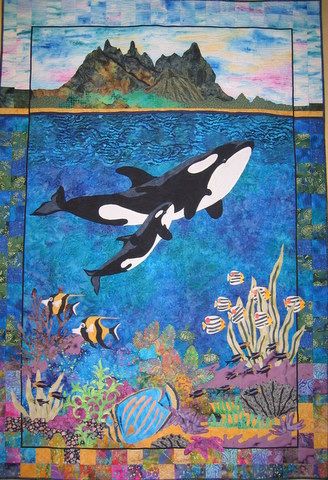 'Sea-Life at Bali Hai' 50" X 78" 2005
This quilt was inspired by visiting Kauai and also the beautiful prints by artist Robert Lynn Nelson. The border is made in pieced squares of fabric in colors that blended to the adjoining part of the quilt. In 2005 this quilt was selected to be exhibited at the juried AQS show at Paducah.
'Nesting Hummingbird' 20" x 20" 2006
Taken from a series of hummingbird quilts. I particularly enjoyed making the nest as it includes raffia, lichen, yarn, twigs and leaves. The striking sunset background is a piece of graduated batik.
Deco Owl 18" x 18" 2009
This owl quilt I made as a donation to a school fundraiser auction. From designing many fish and underwater quilts I now switched to birds as my inspiration. The tree, flowers, leaves and border fabric were all hand-painted.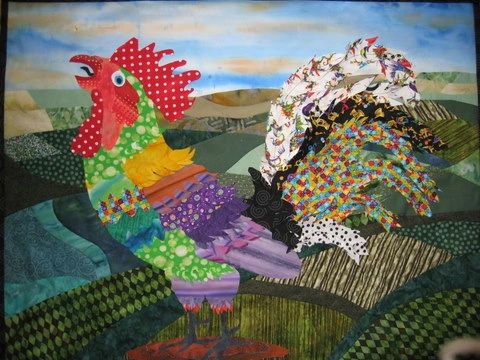 'Mardi Gras Rooster'
40" x 40" 2008
I made this quilt for the quilt challenge for my quilt guild show in 2008, Foothill Quilters Guild. The theme that year was Mardi Gras. The English countryside background is pieced and then the rooster, made in my raw-edged collage applique technique, is attached. The tail feathers were left very textural.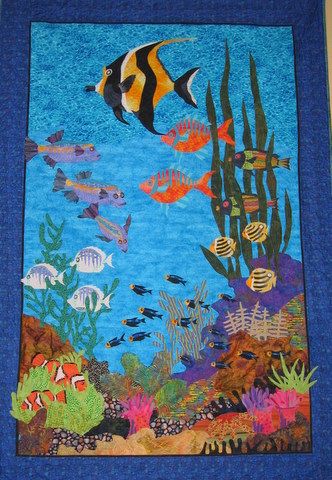 'Pacific Sea-Life'
48" x 68" 2005
This was my first attempt at making a large scale quilt. All the fish were made up individually using my raw edge collage applique technique and then added during the design layout stage.